WhatsApp marketing to help you reach your customers at an affordable price point
Bulk WhatsApp Marketing offers the option to reachout with bulk WhatsApp messages for advertisements and information to be share with a specific target audience
People currently do not have time to read marketing materials like pamphlets. Nevertheless, people frequently check their WhatsApp accounts, making the app a great tool for marketing. WhatsApp Marketing is popular for its formats and straightforward methods that allow you to shape your communication wisely.
An audio-visual message is considered highly effective for communication. Here you can integrate your audio-visual message with text and call-to-action buttons. Not to forget almost all of your customers communicate primarily through WhatsApp. It is there, they are most active. Tejom Digital brings you a cost-effective WhatsApp Marketing Service from Kolkata to Pan India, as well as internationally.
Trusted Bulk WhatsApp Marketing Service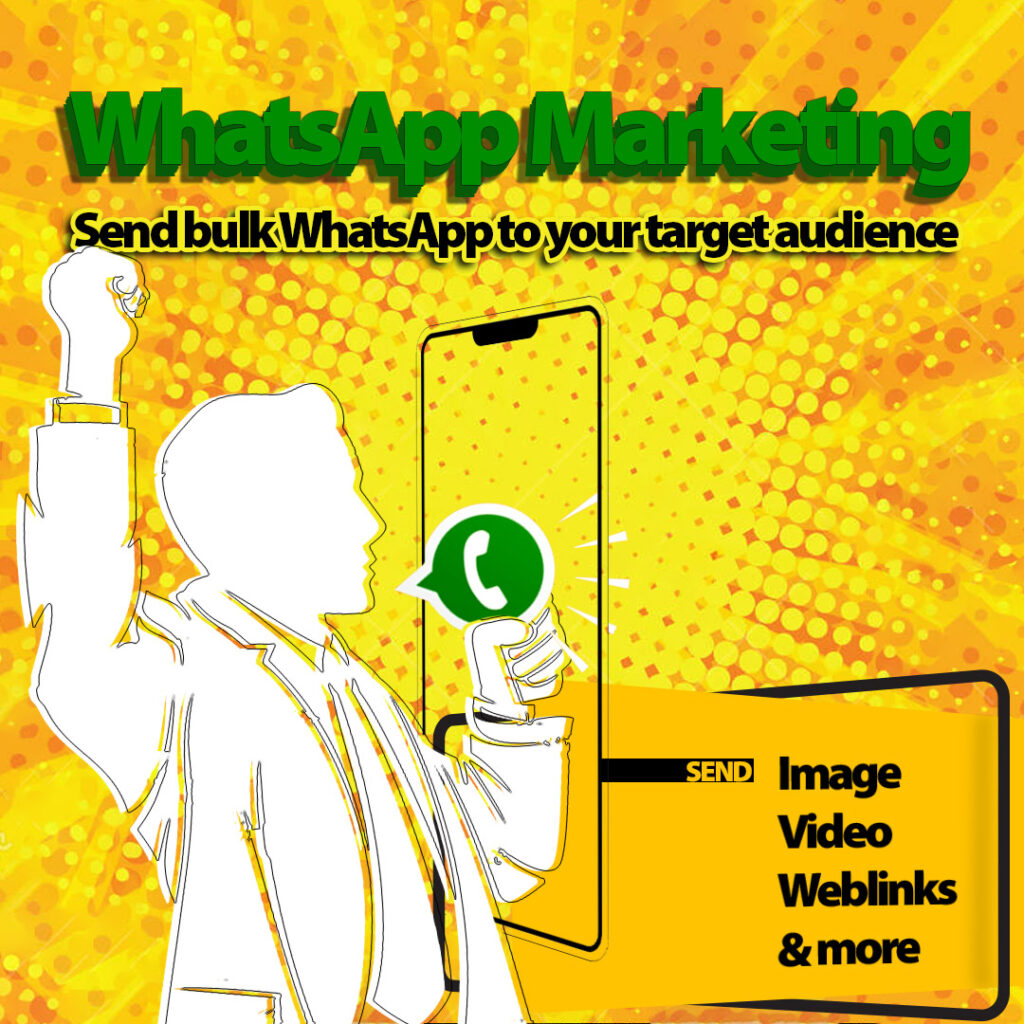 Send Unlimited Bulk WhatsApp Marketing Messages instantly online with delivery reports
Send Images, Video, PDF & Active Buttons
Virtual Number Delivery. No daily limits
100% Best Service and Support
Instant activation
There are a number of ways in which you can reach people with WhatsApp Marketing:
Political Campaign
Fundraising
Alerts
Announcements
Discounts 
Product launch
Offers & Change in offers
Reminders & more
You can gain more benefits by investing less and get the appropriate return on your investment.

Bulk WhatsApp Terms of Service
A single WhatsApp Message may include:
The text should not exceed 1500 characters (for best result do not exceed 500 characters)

2 images (1 MB each)
1 Video (2.88 MB)
1 PDF file (1 MB)
3 Call to action Buttons – Call Us / WhatsApp Us / Link Button (like Buy Now, Book Now, Learn More, etc)
Virtual Number Delivery
Delivery Timing: 10:30 AM to 6PM. (for Sunday delivery scheduled to be made on Friday)
Delivery time: 45 minutes to 1 hour (Slow delivery is most effective for obtaining results)
Report generated after 24 hours
Refunds for undelivered messages are available after 48 hours
A lot can happen over a cup of coffee. It may not be on either sides of the table, but screens.
Why our Clients chose us?